Sustainable purchasing initiative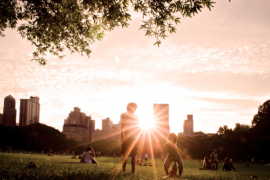 By integrating projects from design right up to operations, sustainable development has become an element in the creation of value in services and a driver of innovation.
To help it meet the challenges of sustainable development, Bouygues Construction is supported by an initiative that is common to all its business units called Actitudes.
As Bouygues Construction's expenditure represents 70% of turnover, purchasing constitutes an essential lever in this initiative.
The objectives of our sustainable purchasing initiative are as follows:
Sustainable purchasing in figures
48% of R&D expenditure is spent on sustainable construction.
72% of orders taken for buildings by Bouygues Construction are subject to environmental labels or certifications.
65% of worsites got the ECOSITE label.
Over 2,400 suppliers are assessed annually.
Purchasing in favor of integration of disabled workers
By means of a network of Mission Handicap officers in each of its entities, Bouygues Construction organizes its commitments around four themes:
Improving employee awareness (handi-tours at construction sites, training, handi-management)
Recruitment (forums, handi-cafés, job dating, etc.)
Retention in employment (site accessibility, workplace adaptation)
Subcontracting in adapted and protected sectors
Examples of activities subcontracted to companies in protected and adapted sectors (non-exhaustive list):
Interior woodwork
Cleaning site portable cabins
Cabling of electrical cabinets and boxes carried out by the Association des Paralysées de France
Cleaning offices, vehicles and overalls
Manufacturing concrete girders
Pre-assembling plumbing fixtures
Serving meals
Supplying exterior woodwork
Supplying and installing small-scale ironwork
Maintaining green spaces
Recycling computers
Partnership with WWF Global Forest and Trade Network
Bouygues Construction is committed to an initiative that supports responsible trade in wood products and promotes forest certification. It has established a partnership with the WWF Global Forest and Trade Network (GFTN) in the aim of implementing this policy.
The policy concerns all products that contain wood and all employees who are likely to purchase wood, whatever department they may work in.
This initiative forms part of Bouygues Construction's operational economic imperatives and its sustainable development policy, Actitudes.
The principles underpinning our policy for responsible purchasing of wood products are:
Identifying and tracing the origin and type of wood
Ensuring and demonstrating its traceability and legality
Eliminating purchases of products that contain types of wood included in Annex 1 of CITES or that figure on the IUCN's red list, unless FSC certified
Increasing purchases of certified wood products
Informing Bouygues Construction's clients, suppliers and partners about initiatives that promote responsible purchasing of wood products